Standing Desk Buyer's Guide
[vc_row][vc_column][vc_column_text]Here at Desk Advisor, we find ergonomics to be an important role in your daily life. People sit at their desk way too long and don't realize the long term side effects this can do to their bodies. Providing a flexible alternative to sedentary can do wonders to one's lifestyle. An adjustable desk can not only help with improving ergonomics but also improves focus and productivity.

We've gathered tons of information on these adjustable desks and we encourage you to look through our buying guide to help you make a sound decision on which one to get. Desks can range from using it on a bed to having it on your current desk setup (converters).

In order to remain unbiased, we've collected, reviewed, and verified customer and owner experiences from individual sources. Our ratings reflect this data, and we're constantly updating and improving our information to bring you the most current details about today's height-adjustable desks.
Adjustable Standing Desk Buying Guide Database
Use our individual standing desk buying guide to learn about different adjustable desk types and suitable options based on your height and office set up. Our guides include dimensions, height range, and other important purchasing details.
Use the adjustable desk comparison tool to find the best adjustable height desk for your set up.
[/vc_column_text][/vc_column][/vc_row][vc_row][vc_column][vc_column_text]
Adjustable Desk Search and Filter Tool
[/vc_column_text][/vc_column][/vc_row][vc_row][vc_column width="1/4″][vc_column_text]
Brand
[/vc_column_text][vc_column_text]
Design Type
[/vc_column_text][/vc_column][vc_column width="3/4″][vc_column_text][/vc_column_text][/vc_column][/vc_row][vc_row][vc_column][vc_column_text]
Adjustable Desk Converter FAQs
One of the biggest ironies of life is that the more choices we have, the harder it is for us to choose. With all the information you can get on the Internet about a dozen different brands offering the same product, how are you going to narrow down the best options and choose the one that perfectly suits your needs?
To help you out, here are some questions you should ask yourself before you decide to switch and purchase your first height adjustable sit-to-stand converter.
If you need more help understanding how standing desk works, head over here.
Switching from a sit to stand desk for the right reasons?
Any product if misused can do more harm than good. There is no such thing as one size fits all. People who eventually leave a good product were usually not properly taught on how to utilize it and finding out that they are using a product for the wrong reason.
If your job is better done sitting than standing, then it is not wise to switch. If your tasks require writing, concentration, heavy content editing, and other tasks that require motor skills, it is better to keep your regular desk and remain seated. What you can do is aim for the 20-8-2 ergonomic rule to stay healthy. According to research, it is recommended that you sit in a neutral position for 20 minutes, 8 minutes standing, and 2 minutes moving. So if you follow the recommended sit-stand work pattern on a typical workday, you'd get around 5 hours of sitting, 2 hours of standing, and 0.5 hours of moving.
If you are switching just because you want to burn extra calories, then you are buying it for the wrong reason. Sure, we mentioned that standing could reduce obesity, but burning calories can eat up your energy and makes you tire quickly. This could negatively affect your job performance.
Full table desk risers vs. stand up desk converters?
With all the available options out there, you should consider what works best for you. This includes your needs, space measurements, space designs, and budget. Ultimately, it is up to you. You have two main options here, the full table that can be crank adjusted or motorized standing desk, or a sit-stand desk converter (electric or manual) that you can sit on top of your desk. The converters are mostly manual and are the common ones because its a lot easier when you want to transition from a seated work environment to a standing work environment.
How adjustable is the converter?
Anyone looking to buy or switch to adjustable desk converters should understand that this is one of the most important factors to consider before making a purchase. Take note that one of the reasons why you are switching is for your health. If you have to slouch, you may be bringing more harm to your health than good.
How do I know if the adjustable height is right when standing?
These recommended adjustable desk converters give you a wide range of height. Not only do they offer flexibility, but they also support your health and well-being, as well as your productivity.
Each adjustable desktop converter in the market varies in size, shape, and adjustable height range. Choose the one that can accommodate your needs when seated and when you are standing. Consider other factors that may affect height measurements such as mats or shoe heights.
How to know the right size or adjustable height of the desk
Let us say you are planning to purchase a perching or sit-stand desk, you can check if it is the measurement is correct by seating comfortably, arms on rest, and your feet touching the ground. Make sure you are comfortable. Compute the distance or measurement from the ground to your elbow, particularly the underside. The distance between you, your desk, your monitor, and keyboard should be the same or a little bit higher.
Repeat the process, but standing up.. Take into consideration other factors that may affect the height such as your shoe heights and mats.
Choose the one that adjusts the same level as your elbow height when sitting and at the same level as your elbow height when standing.
If you looked around and could not find one that matches your height, you can opt for those who have an adjustable keyboard tray or adding a footrest.
You can add more flexibility to your existing table by adding casters but make sure you include it to your measurements when determining the desk height of your converter. Consider these factors only if you are buying a desk that is just for you. If it is for the common area like your workplace where other people are free to use it, you would need to find one that offers the maximum adjustment ranges or different options for flexibility.
If other people in varying heights are going to use it and for various tasks
There are different adjustment range guidelines to be followed to accommodate the height of most males and females. US guidelines observe the BIFMA, and ANSI/HFES. ANSI/HFES 100: 2007 requires a scope ranging from 22″ to 48″; BIFMA G1.23: 2013 requires 22.6″ to 48.7″. Europe guidelines follow BS EN 527-1: 2011 requires a scope ranging from 650 mm and 1250 mm (25.6″ to 49.2″).
Remember you can always add other factors such as keyboard trays, footrest, and casters to add height if you find it hard to choose one that best fits you and your needs.
Do I want one that rises straight up and down, or towards me?
The two most popular types of adjustable desks are the ones that go straight up and down or the one that goes towards you.

Straight Up and Down
Towards You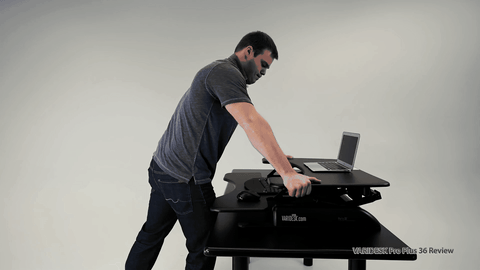 You'll have to decide which one will be most comfortable for you. You'll want to consider the space you have between your standing position and your desk.
Is it the right size for me and my workspace?
This is the same as above. The height and other dimensions such as the depth and width should fit you and your needs. It is all about ergonomics. Ergonomics play a big part in ensuring that you get a functional product that fulfills its purpose while complementing your strengths and minimizing your limitations.
Desk convert depth
The distance from the front all the way to the back of your tabletop should be at least 30" to accommodate your needs. Lesser than that and you will be facing your desk with your monitor so close to your face that might potentially impair your vision in the long run.
Desk converter width
Desks come in varying height, depth, and width. Take into considerations your measurements, your needs, and your workspace.
How much work surface do I have?
Ask yourself how much surface area you may need. Will you be needing a large enough work surface area for dual monitors plus a keyboard and mouse? Perhaps you're only working with a laptop. If you're just working with a laptop, perhaps you can check out our list of portable and adjustable standing desk for beds. This may suffice for your laptop needs. Or you may be using a laptop and an external monitor, which may require a larger working surface. Don't forget to account for your coffee mug too. Desktop converters can vary in size, and you'll want to make sure to account enough room that you won't be knocking over your drink.
What is the weight capacity?
Adjustable desk converters also vary in weight capacity. If you are planning to place heavier items or devices on your desk, choose one that is sturdy enough to stand and accommodate all your desktop items.
Do I want the electric desk riser or manual desk converters?
This is a matter of preference. You can opt for an electric adjustable desk but you have to consider if a little noise is not going to be a problem. Electric ones are powered by small motors that sometimes produce noise. If you are going to use it in a common area or as your regular office desk replacement, maybe it is not a good choice. You wouldn't want your co-workers and customers to get distracted by it.
Keep in mind that this guide is all manual converters. Most converters use an air suspension system or some type of hydraulics to easily level your desk frame up and down. However, sometimes you'll come across crank adjustable ones (but these are usually built on full adjustable desks), but be wary, because these can cause shaky movements when going up and down.
Note: We're currently testing a few electric adjustable desks. Full reviews of these sit stand desktop furniture will be up shortly.[/vc_column_text][/vc_column][/vc_row]