We all know the health benefits of having a standing desk, but it can also be hard finding the perfect desk converter for your specific needs. The Stand Steady is very innovative and different than its competitors. It is easy to lift, and can be a desk savor! The UpTrak is great for small desks that requires a smaller converter footprint.
The Stand Steady UpTrak is big enough for, an iMac, however, it can be a little too heavy for anything more than that. This specific Stand Steady converter doesn't have a keyboard tray. If you're looking for one with a keyboard, fortunately, Stand Steady does have one on the market, however, it is a little bigger, but can accommodate more than just an iMac monitor. We will get to this specific model later on.
By using the Stand Steady Uptrak, you'll notice right away that it barely takes up any room with its compact size. The converter is designed to be a little bit more flexible than other standing desk converters because it doesn't lock in specific intervals (it has a fluid up and down motion where you can adjust to your comfortable height).
The Stand Steady brand understands that puts your health first. I've been able to introduce more activity into my day because of products like this, and by standing I've felt more energized and focused throughout the day. Overall the addition to the workspace makes the day go by faster and more efficiently.
Stand Steady UpTrak's Adjustments
This Stand Steady UpTrak uses an easy adjustable clip that helps with the conversion. This allows you to effortlessly lower or raise your desk. While most standing desks use the standard crank (or the squeeze levers), it's nice to see a bit more innovation. However, because it doesn't use a spring or hydraulic system, you'll need to be cautious when adjusting.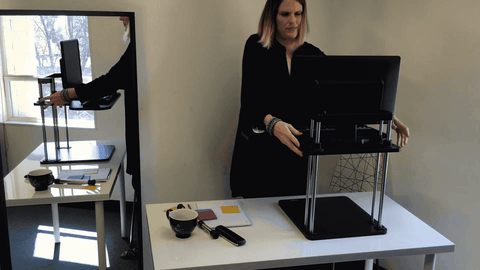 Another thing to mention is that if you need more support, this unit comes with a third supporting leg that you can attach and detach.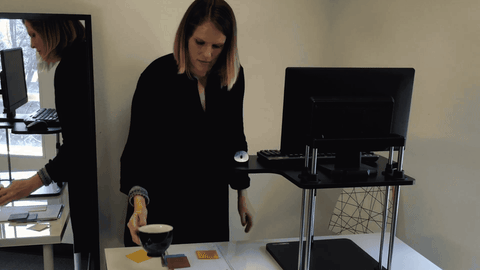 But it can be annoying sometimes if you're often adjusting your UpTrak. But if you keep it the same height, then I would assume it wouldn't be a big deal.
Stand Steady UpTrak Size
Because a lot of the standing desks takes up your entire desk, this one has a smaller footprint, which is nice if you have a smaller table. However, with a smaller footprint, you only have a limited amount of space for your monitor, keyboard, and mouse. If this is the only thing that you need, then this might be a perfect feature to have.
Havaing a smaller footprint means the converter is lighter too, about 15 pounds. But being light can have its cons too, supporting up to 25 pounds of weight. This may be suffice if you have the newer Apple iMac that weigh 12.5 pounds. However, it could be a stretch if you have older iMacs that can weigh from 21 to 30 pounds.
Why people love the UpTrak?
So many people have fallen in love with this product, from the smaller footprint, the sleek ergonomic design, to the way that it has impacted their health and wellness in a positive way. Many individuals have said that their back pain has been relieved and they have finally found a remedy that has helped them feel just as passionate about their career as if they had just started.
The only thing that may be concerning is that you an extra piece of equipment that you'd have to attend to if you need more support, or if you want to change from standing up back to sitting down, and vice versa.
Stand Steady Return Policy
You will be able to return the standing desk within 30 days of purchase, but if you're looking for a replacement or missing parts, within 30 days and with provided proof you should be able to get a response from Stand Steady on the next steps to take.
Desk Advisor's Stand Steady Thoughts
---
If you're on a budget, then this is a simple sit to stand desk converter that can be great for your needs. It's quick and easy to use, no hassle, and won't stand out like a sore thumb in any office space.
Keep in mind that you'll need to be cautious when you're lowering the UpTrak. It doesn't have a hydraulic or spring system that can prevent the platform from crashing down. You'll also have to attend the third leg for support if your computer is on the heavier side.
Overall, its a great standing desk with some cons, but can be perfect for what your goals are.
PROS
Small desktop footprint, perfect for smaller desks.
Lightweight and easy to set up.
Monitor guard.
You don't even need any electricity to adjust the desk to different heights.
The level of the desk is adjusted anywhere on the bar, making sure that my arms don't get tired while standing since it has the perfect keyboard height.
For those who are a bit taller, it was nice to know that the Stand Steady Uptrak has height adjustments that go up to 17.6 inches.
CONS
Only good for one monitor.
No keyboard tray.
If you're using a heavier monitor, you'll need a third leg (not attached to the converter).
Stand Steady UpTrak Review – Is it worth the specs?